Each section of a Prism project (Data tables, Info Sheets, Analysis Results, Graphs, and Layouts). can contain up to 500 sheets (pages).
The most versatile way to jump from sheet to sheet is by using the Prism Navigator tree on the left side of the Prism screen.
The names of all sheets related to the current sheet are shown in bold. Click on any sheet name to go there.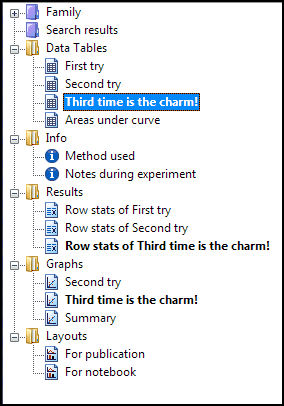 If you need more room to work, click the button in the lower left corner of the Prism window to hide the Navigator. Click it again to bring the Navigator back.
See also:
Tips for navigating large project